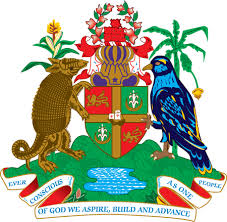 NO. 61/2017                                                                                                             DATE: 6th September, 2017
REGIONAL "PILOT TRAINING CENTRE" LAUNCHED IN GRENADA
ST. GEORGE'S, GRENADA. September 6, 2017. The T. A. Marryshow Community College (TAMCC) in Grenada is the beneficiary of an initiative that resulted in the establishment of a Regional Pilot Training Centre for low-Global Warming Potential (GWP), flammable refrigerant technology.
The Training Centre is part of a regional project implemented by the United Nations Industrial Development Organization (UNIDO) with Funding for this Project provided by the Multilateral Fund for the Implementation of the Montreal protocol on Substances that Depleted the Ozone Layer.
This facility was officially launched by the National Ozone Unit of the Energy Division of Ministry of Finance in collaboration with UNIDO, during a ribbon cutting ceremony held at TAMCC on Friday August 25th 2017.
The symbolic cutting of the was done by Deputy Permanent Secretary in the Ministry of Finance and Energy, Mrs. Petra Charles-Joseph accompanied by Mrs. Ozunimi Iti, representing the United Nations Industrial Development Organization (UNIDO) and Mrs. Marlene Findlay, Dean of the School of Arts and Applied Technology (SAAT), TAMCC.  Also present at the ceremony were Mr. John Auguste, Senior Energy Officer and Mr. Leslie Smith, National Ozone Officer, Ministry of Finance.
This Centre has been equipped with state of the art tools and equipment specifically designed to handle flammable refrigerants.  The total cost of the equipment is in excess of EC $150,000 and include, recovery machines, vacuum pumps, refrigerant identifiers, electronics scales and leak detectors, charging stations, welding machines, multi-meters and several other tools and consumable items required for good refrigeration practices. The Training Centre will benefit not only local technicians but also the technicians in the region, who will be able to host training sessions for their student/trainees.
The ceremony also formed part of the closing exercises of a four-day Regional Train-the-Trainers workshop in low-GWP flammable refrigerants that was held for refrigeration and air conditioning technicians of five Caribbean countries namely: Bahamas, St. Lucia, St. Vincent & the Grenadines, Suriname and Grenada.